Actavo designed, built and installed a modular paediatric ward on the roof of the existing A&E at Cork University Hospital. The new ward created an additional 1,400m² area, providing capacity for 51 beds.
Scope of works
Design, build and install 53 modular units. Actavo acted as PSCS and carried out structural engineering steel works to support the new modular extension. Link the new building to existing services, including all electrical, mechanical and medical gases. Provide a communications room, as well as all data cabling.
Services delivered
Designed, built, and installed 53 modular units as part of the extension works at Cork University Hospital.
Key successes
Minimal disturbance
To keep site construction time to a minimum, Actavo completed 80% of the works required offsite. Any works completed onsite were highly planned and co-ordinated to minimise disturbance to the live hospital environment.
Accessibility
The new facility was built on a 1.2m steel podium above the existing hospital, allowing services such as data connections, electrical cables etc. to be housed in an easily accessible yet hidden location.
Infection control
Infection control is critical whilst working in a live hospital environment. Actavo operated to strict protocol and procedures regarding infection control plans.
Compliance
The project was successfully delivered and met all the Statutory Compliance checks, including BCAR and PSDP, certified by Moloney O'Beirne Architects.
The fire safety strategy was designed and certified by Michael Slattery & Associates to be fully compliant with fire regulations.
Sustainability Sustainable design features included natural sunlight pipes, solar shading windows and Eco PV Panelling.
Clear communication
A project manager was appointed as the main point of contact for the client and stakeholders throughout the design and build project. Stakeholders included HSE and hospital representatives and the client's design team. Prior to commencing the design process, Actavo held meetings with the client's design team to agree any critical design issues, ensuring the client's requirements and expectations were met. Actavo gave regular progress updates, including site visits.
Experience
Actavo's design team selection was based on previous working relationships, completing works of a similar nature, and relevant qualifications and training. The design team comprised:
Architectural - Moloney O'Beirne Architects
Civil & Structural Engineering - Evolusion Innovation Ltd
Mechanical & Electrical Engineering - Malachy Walsh & Partners
Fire Safety - Michael Slattery Associates
Quantity Surveying - James P McGrath & Associates
PSDP - Actavo
Managing subcontractor quality
Actavo works with a number of specialist subcontractors, all of whom have passed a stringent approval process for quality and safety. Subcontractors work within Actavo policy and processes and are managed by Actavo site managers.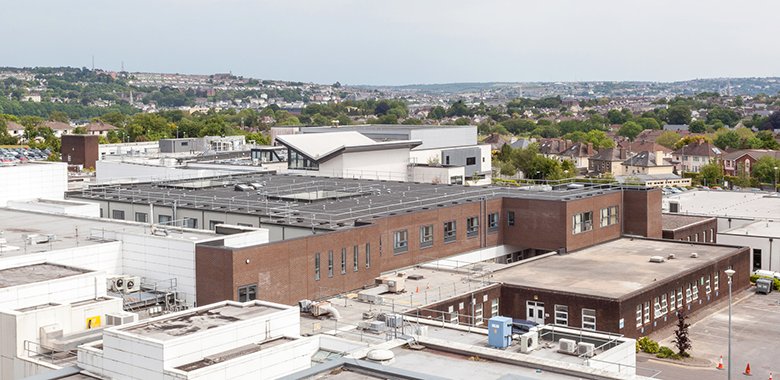 Solutions to challenges
Live hospital environment
The modular building was installed over the existing hospital building in a densely populated live hospital campus. Due to offsite fabrication, there was 80% less traffic on site during the onsite phase.
Tight timeframe
The HSE looked at both traditional and modular methods during the initial stages of the tender process. Upon receipt of Actavo's comprehensive tender submission, Actavo's modular solution was deemed the most suitable method to supply the ward. The cost and programe timeframe were also deciding factors.
Benefits to client
Quick turnaround
The modular building provided a quick decant solution for the paediatric ward while renovations and refurbishments were taking place in the main hospital.
Quality control
One of the main benefits of modular buildings is that much of the work is carried out offsite. As well as reducing the level of disruption associated with traditional construction methods, it allowed Actavo to monitor quality in a controlled, factory environment.
Actavo carried out a Requirements Traceability Matrix to ensure all issues were highlighted at an early stage and rectified prior to construction of the units. The project was delivered on time and in budget.
We are very happy with the new unit. With limited space and a requirement to keep noise and traffic disruption to a minimum, a modular building was the ideal solution for the high-tech unit to be put in place while the existing paediatric department is being refurbished and extended. Our patients and staff were not disturbed during the build, which was a key reason we went with a modular offsite build, in that 80% of the construction, down to first fixes, was completed off the hospital campus, and it was then placed on top of our outpatients department."

Tony McNamara

Chief Executive Officer, Cork University Hospital