Your trusted partner for safe and innovative event infrastructure
Actavo Events is the largest supplier of infrastructure to the events industry in Ireland and offers a wide range of stock also across two locations in the UK. We maintain an extensive inventory of event infrastructure which is increased based on client requirements. In line with our core value, 'Live SAFETY' we operate to rigorous standards of health & safety, ensuring an unwavering focus on the welfare of our people, clients, customers and the general public. With Actavo Events, you can rest assured that your event is in safe, experienced hands.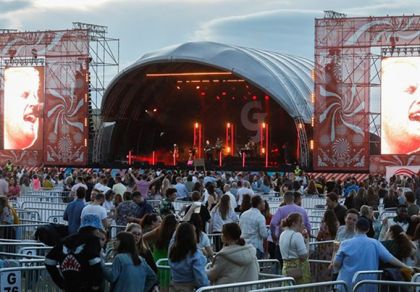 Staging
We offer an extensive range of staging solutions to meet your event requirements, and have vast experience in designing, building and managing staging requirements for major events, including concerts, festivals, sport and corporate events. Our experienced project managers will help design the perfect solution for your event based on capacity and site considerations.
Outdoor stage roofs including a tunnel roof and space roof located in Ireland
Mobile stages located in Ireland
Indoor and corporate stage deck platforms
Bespoke staging solutions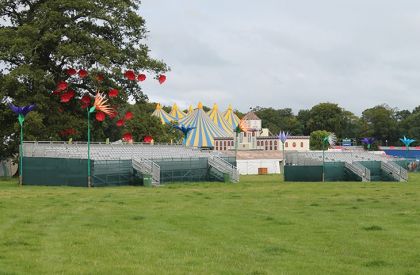 Grandstand Seating
We have a wide range of seating options to meet your event requirements, and the expertise and training to ensure an unrivalled focus on safety. Our experienced project managers will work with you to design and deliver the best seating solution for your event based on its capacity and your particular site considerations and constraints.
We offer:
Purpose-designed seating system combining technology and design using the BOX Seat range and Layher under-structure - the only modular seating of its kind in the UK and Ireland
10,000 box seats available in artic grey
2,000 green Layher tip-up seats
500 bucket seats
Bench style seating, also known as bleacher seating, up to a capacity of 243 people
Standing grandstands
Mobile grandstands (Ireland)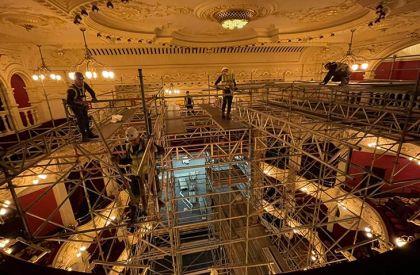 Event Scaffolding Structures
We use the Layher scaffolding system for all our event scaffolding structures. We have a recognised trading partnership with Layher and are a product development partner. Examples of our structures include:
Camera/media platforms and risers
Accessible viewing platforms
Access staircases and ramps
Tent and marquee under-structures
Screen support structures
Pedestrian and vehicle bridges
Entrance – start/finish archways/gantries
Signage structures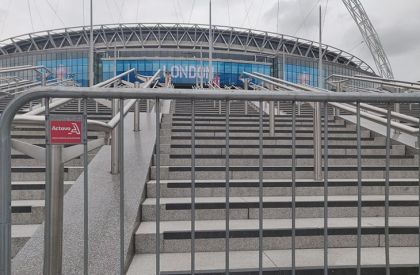 Fencing and Crowd Control Barriers
We stock a wide range of fencing and barrier products for site demarcation, crowd control and queuing systems. Products are available to dry hire (excluding front of stage barrier and steel shield) or can be installed by our event crews.
We offer:
3.5m fence panels – standard site fence panel
2m fence panels
Pedestrian and vehicle gates
2.3m crowd control barriers
Walkthrough barriers
1.5m police style barrier
2.3m flat foot barrier
Front of stage barrier with gates, snake gates and flexis
Solid hoarding
Steel shield
Hoardfast for indoor use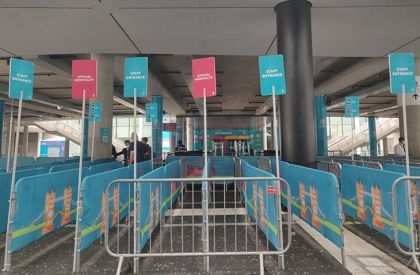 Channel Barriers for UEFA 2020 European Championships
In 2020, we designed the channel system with UEFA to provide an effective queuing system for the 2020 European Championships. Many pedestrian barriers have protruding legs, which have been identified as a trip hazard. Actavo Events' Channel Barrier features flat bespoke feet, which have been designed and manufactured specifically to allow for safer queuing lanes, maximising space and reducing trip hazards. The barrier's new design, which comprises shorter runs, also means they can be more easily pushed by hand to concertina and fold away. This works perfectly in a crowd management or emergency situation, particularly if event teams need open access to an area to alter crowd flow or to deal with an emergency.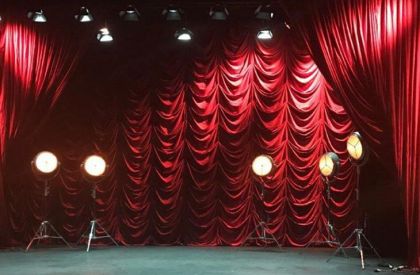 Drapeage
Within our Ireland depot we have a dedicated drape manufacturing and distribution warehouse facility where we can produce drapes of any size or shape from a choice of over 500 different fabrics. In our drape manufacturing, we maintain the highest possible quality and standards and all of our drapes adhere to strict fire safety regulations. We also offer a cleaning, repairing and fire proofing service for drapes within existing venues.
Within our hire stock we have:
LED Starcloth
Pipe & Drape
Tracking & Reveal (Kabuki)
Jungle Drape
Shimmer Velour 'Standard'
Velvet Velour 'Classic/Pleated' and 'Bundles'
White Trevira 'Straight'
Wool Serge
Low Trim Track & Serge
PUFC, these are waterproof and usually used for outdoor events
Black Casement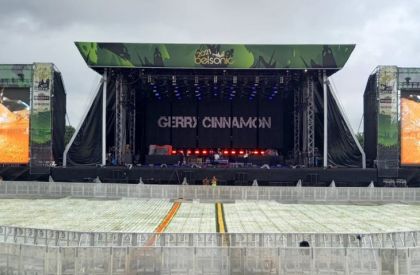 Rigging
Our rigging personnel are some of the most highly trained and experienced in the business with an impeccable health and safety record. We have completed rigging works with some of the biggest touring artists and high-profile venues nationwide. We also supply truss systems for stages and exhibitions along with follow spot operators and tour riggers.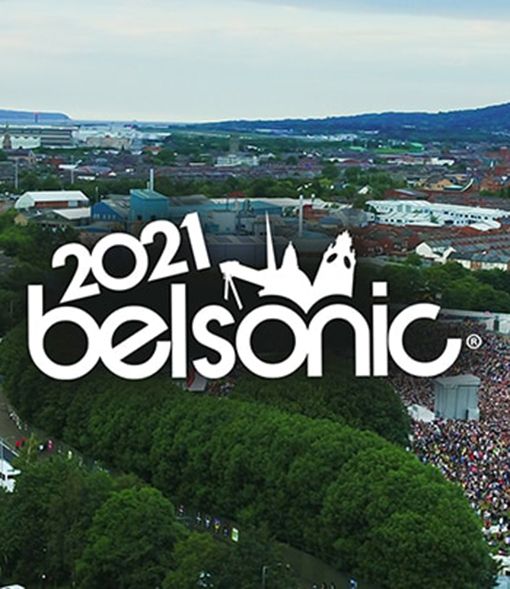 It was great to have the Actavo Events Teams on-board in delivering their New Spaceroof for Belsonic 2021. This year's festival was a great success and Actavo were a big part of this. The entire Team were great to work with from initial conversation right through to the last truck leaving site. We look forward to further strengthening our relationship throughout 2022.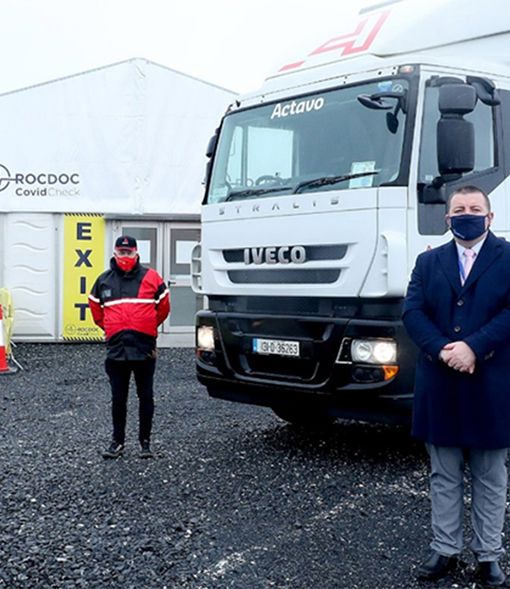 We were very pleased with the response by Actavo Events in supporting our work on behalf of the Department of Transport. The excellent delivery of the infrastructure for the test centres in terms of timeliness and overall quality has been exceptional.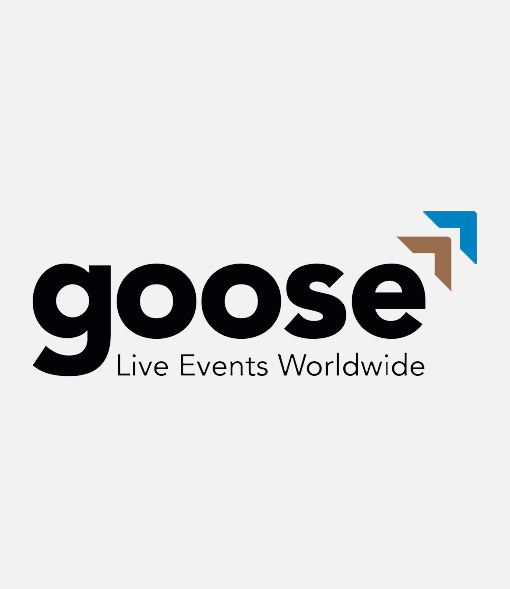 The Actavo event team are available for progress meetings and site visits and provide us with detailed schedules in advance of the event which gives us piece of mind that they understand the event requirements. The team are flexible with changes and work with us to achieve our budgets.
Senior Event Manager, Goose Live
Some of our Clients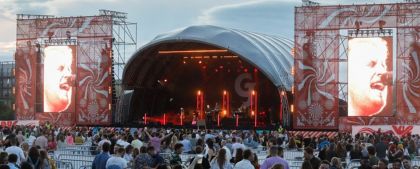 We'd love to talk to you about your next event!