Your safe pair of hands in the events industry
Looking to hire mobile staging or seating in the UK? We can help. We offer a range of portable truck stages and tiered seating, to enhance any outdoor event. These are suitable for a variety of events, and are managed by a highly experienced team with an award-winning focus on safety and quality. Contact us today to discuss your next event, big or small.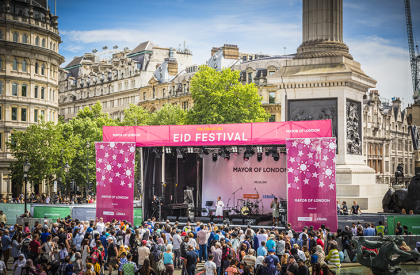 Mobile 10 Metre Stages
Our comprehensive VerTech™ Mobile Stages are all you need to start your event with that showstopping effect. We offer a full 10 metre stage that can be branded to the desired level.
One of the great advantages of our portable stages is that they can be brought straight to site and can be set up by Actavo staff in under 4 hours, as they have their own independent power supply.
Each stage can accommodate up to 1 ton on each side for any PA facilities and has the choice of three entrances. With a full 15-metre frontage and integral interior drapes, your artists will be proud to perform on these stages under any adverse weather conditions. We also can provide suitable crowd barriers, fences, Mojos or FOH structures to complete the installation.
View our 10mx10m VerTech™ Mobile Spec Sheet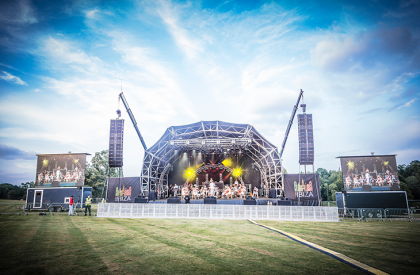 Mobile 15 Metre Orbit Stage
Our VerTech™ Mobile 15-12 Orbit Stage is fully installed by our experienced crew over a two day period. Our portable Orbit Stage makes an impressive 23-metre frontage giving 15 metres of performance area and 5 metres of headroom. Multiple entrances are available from three sides and the stage is supplied with steps and a ramp for easy access for artists.
A full two tons of PA equipment can be flown from each side and there are extensive branding opportunities throughout. We include a small FOH facility, but can provide additional crowd control barriers, fences, Mojos or full FOH structures to complete any installation.
To prioritize Health and Safety on site, we also provide a qualified technician on call or even on site to regularly inspect and certify the structure during performance days.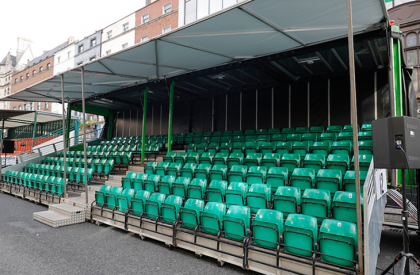 Mobile Grandstands (Bleachers)
Our VerTech™ Mobile Grandstands offer an incredibly versatile, quick and convenient bleacher seating option, suitable for a variety of weather conditions and occasions.
Mobile Grandstands are ideal for those areas that can't accommodate a fixed grandstand or involving a tight timeframe. They take under one hour to set up or de-rig and are fully hydraulic with their own power supply.
Holding 171 fold up seats, the viewers are covered from the elements with a solid roof and they also incorporate safety rails to prevent ingress through any restricted access points.
These portable Grandstands are designed to the highest standards for spectator seating and offer the same viewing angles offered by modern fixed stadium design.
Why choose Actavo Events?
What sets us apart is that we are a well-established Event Infrastructure provider, with an outstanding safety record, a highly-experienced team and a relentless focus on Customer Experience and Quality.
Award-winning Health & Safety
With 'Live Safety' as a core value, we have an industry-leading Health & Safety ethos and culture, giving you peace of mind that your installation and operation is in very safe hands.
Highly experienced team
With over 30 years' experience in the events infrastructure business, our teams bring a unique expertise to help ensure your event's success.
Focus on Customer Experience
We have a relentless focus on Customer Experience, so your needs are our priority. We will explain things clearly and always aim to exceed your expectations.
Quality assured every time
Right first time is our passion. We are singularly committed to achieving a culture of excellence, backed by ISO accreditation and rigorous Quality Systems.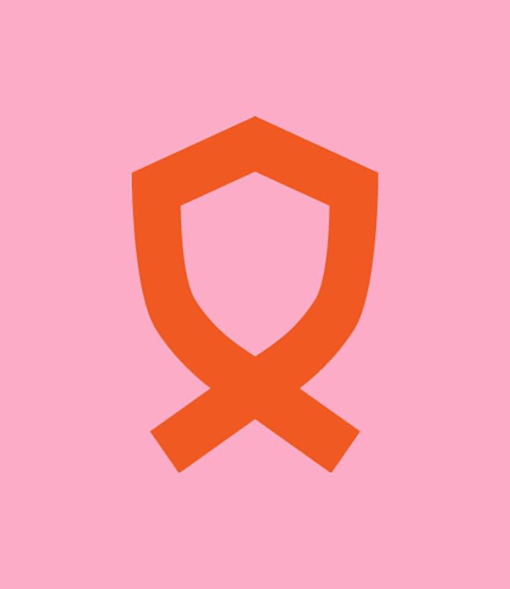 I would like to express my sincere thanks for everything you did for us in making our day go so smoothly and achieve such great things. From the first email, through to quoting and proceeding with the order, your service was impeccable. We pride ourselves in 'making amazing things happen' and this does not happen without people like you involved. We will certainly be in touch for our event next year. Thank you again.
Our Clients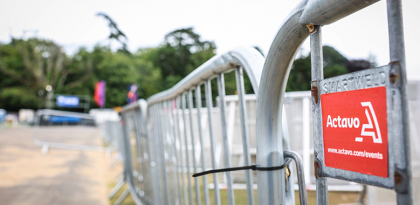 Talk to us about crowd control barriers, fencing and other infrastructure for your next event!