Actavo was hired to design and build a two-storey staff decant and single-storey crèche at Tallaght Hospital, Dublin. The project was part of the satellite centre for the delivery of paediatric outpatient and urgent care services under the National Paediatric Hospital development plan.
Scope of works
Design and build a 1,460m2 building. It comprised a 1,210m2 two-storey hospital staff accommodation building containing offices and staff welfare facilities and a 250m2 single storey crèche. Works included the construction of a fully enclosed modular walkway linking the accommodation to the existing hospital.
Services delivered
Designed and built 44no modular units.
Key successes
Security and safety
To supplement the daily onsite checks, an Actavo director carried out unscheduled visits and checks of all aspects of the operation. Inspections were carried out through the production, construction commencement, installation, construction completion and commissioning stages in line with the BCAR inspection plan and Actavo's ISO: 9001: 2008 procedures.
Quick turnaroundThe offsite rapid modular system build accommodated the urgent need or staff to be moved from the existing ground floor refurbishment. It replaced the prefab hospital crèche and staff changing facilities unit demolished as part of the National Children's Hospital Satellite Centre works.
Thoughtful design
Actavo's design allowed for seamless aesthetic integration with the existing hospital buildings.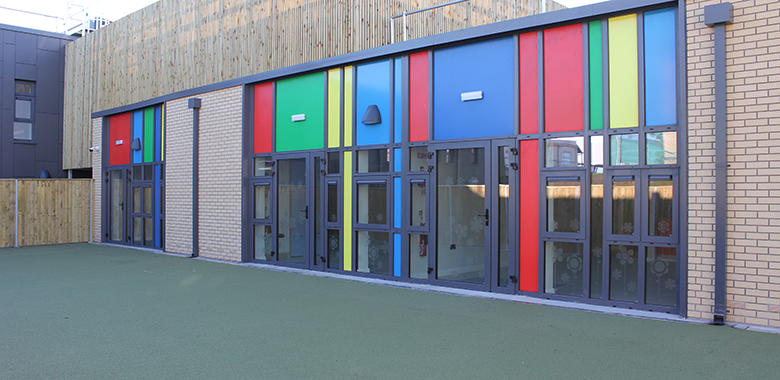 Solutions to challenges
Live hospital environment
The modular building was located adjacent to the existing hospital building in a densely populated live hospital campus. Liaison with the client and stakeholders was essential to minimise disruption to normal hospital operations. A Project Manager was appointed to liaise with the client and stakeholders throughout the design and build.
Benefits to client
Quality control
Much of the work is carried out offsite. This reduced the level of disruption associated with traditional construction methods and allowed Actavo to monitor quality in a controlled factory environment using its proprietary in-house QAQC app.
Advanced design
To meet Coady Architect's brief, Actavo incorporated a Lewis deck screeded floor into the design. This met the requirement for a high impact and airborne sound insulation specification.
Zero disruption
The modules arrived on site with 80% of the fabrication completed. Actavo delivered the modules at night, which required extra planning and increased health and safety procedures. Actavo's approach resulted in no disruption to patients or staff.