Actavo Modular provided high-grade modular accommodation for a major data centre development.
Scope of works
Provision of 55 module Staff Welfare and Construction Management Offices to accommodate Dublin based staff for the duration of constructing a turnkey data centre.
Services delivered
Demonstrating the flexibility of Actavo Modular hire units, we re-engineered 55 modules from our extensive fleet, to create a complete Site Office solution comprising an 810 sqm Construction Management Team Building with 36 modules, a 410 sqm Staff Welfare Building comprised of 16 modules, and a Staff Canteen Building of 81 sqm, made up of three modules.
Our expert team completed all delivery, installation and M&E fit out to enable the facility to be up and running quickly for our client.
Key successes
Due to Actavo Modular years of experience in providing buildings of a similar function and standard, we were able to meet the agreed timeframes.

Actavo worked closely with the client's Health & Safety team to ensure zero LTIs.

Due to the range of Actavo Modular's hire fleet, solutions were provided to meet every element of the scope of works required by the client.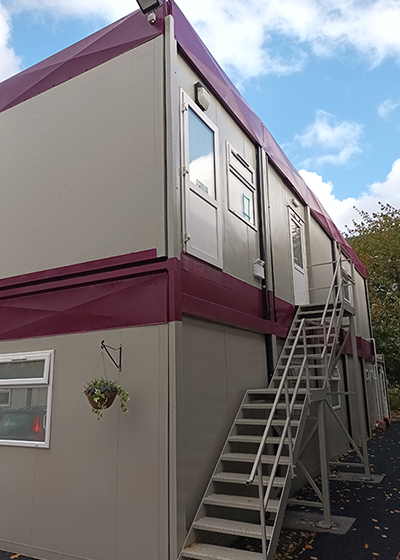 Solutions to challenges
Existing overhead electrical cables required Actavo Modular to develop a safety plan which incorporated using two cranes to safely place the modules in the required position on site.

The delivery for this quantity of modules required Actavo Modular to develop a comprehensive delivery and traffic management plan, ensuring communication between all parties on site was considered.
Benefits to client
Actavo Modular provided a high-grade modular complex which incorporated a high thermal performance, providing the client and construction staff with a comfortable work environment to meet their needs.

Actavo Modular upgraded the electrical fit-out in the CMT building to enable the client to incorporate the use of modern office systems.

With Actavo Modular's road-based service, crews could action any requirements within a 24-hour period.
Contact Actavo Modular
Tel:+353 (0) 45 886100
Email: [email protected]