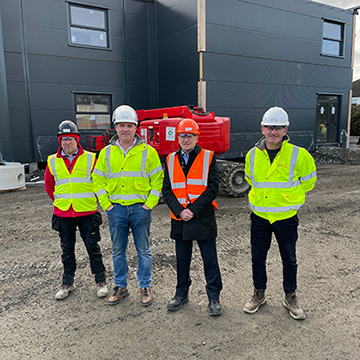 Pictured above are: Eoghan Golden, Mike Regan, Terry Bayliff and Karl Fagan.
Our Modular team is currently putting the finishing touches to the 36 no. module building which was installed in December, providing 1350m2 of new school accommodation.
From commencement on site to completion and handover will be achieved in 12 working weeks. The building itself was installed in the first week of January, ahead of the construction programme, after initial groundworks and 80 No. isolated pad footings were installed in December, all on a live school campus. The Project is a great example of how modular construction can facilitate tight timescales in operational environments.
This is one of a number of modular school projects currently in progress by Actavo Modular under the Department of Education & Skills Prefabricated Modular Volumetric Accommodation Framework