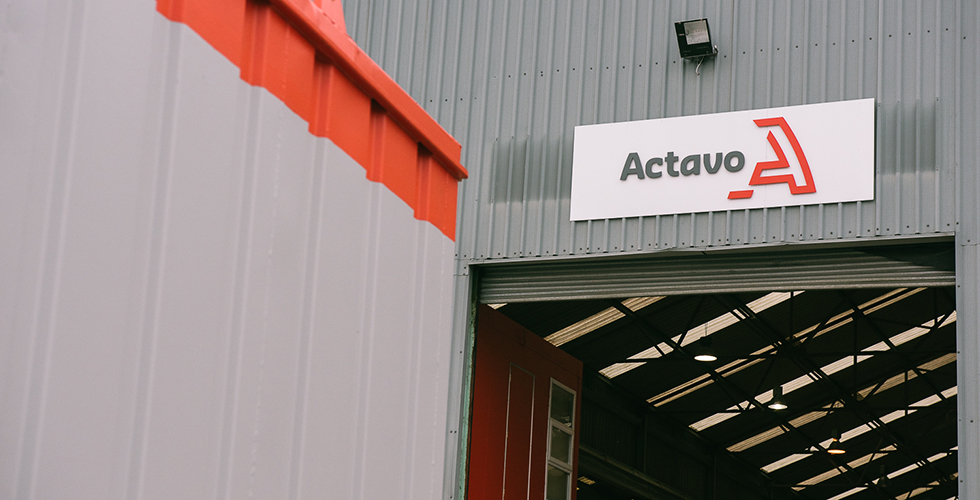 Actavo Modular Manufacturing Facility, Kill, Co Kildare
Actavo Modular began as RoanKabin Group, incorporated in 1974, originally supplying jackleg kabins, containers, stores and toilets, with production outsourced. In 1987 a management buy-out of the company was completed and two years later RoanKabin began manufacturing modular units for hire and sale in a 12,000sq ft factory in Tallaght.
In 1993 the company relocated to larger premises in St Margarets, Co Dublin, allowing the company to progressively alter its product mix, designing a range of higher quality buildings using the RoanPlan Modular system, which favoured a galvanised skeleton as opposed to the traditional timber frame which was phased out in 1997. Key projects included a 4,000sq ft premium office building for MSD, and a 12,000sq ft office for the OPW in the Phoenix Park.
In 1999, the company relocated to a new 60,000sq ft factory and 5-acre business campus in Kill, Co Kildare, equipped with the latest production machinery, gantry cranes and CAD facilities. The enhanced production potential enabled larger projects including a 25,000sq ft office for EMC in 1999.
In 2005 RoanKabin established a Contracts Department to manage increased demand for design and build solutions, and in 2006 the company secured the contract to build the new 41 bed Modular Nightingale Ward at Tallaght Hospital, including complete fit out and decoration. This 800 sq. metre, 16 week turn-key project was annexed to the hospital's existing Accident & Emergency Department.
In 2007, RoanKabin was acquired, and in 2012 transferred into private ownership, rebranding to 'Actavo Building Solutions' as part of Actavo Group in 2015.
In 2018, Actavo Building Solutions undertook a significant build project to design and build a two-storey staff decant and single-storey crèche at Tallaght Hospital in Dublin. The project was part of the satellite centre for the delivery of paediatric outpatient and urgent care services under the National Paediatric Hospital development plan. Works included the construction of a fully enclosed modular walkway linking the accommodation to the existing hospital.
2020 was a busy year for the division. Brexit brought new stringent regulations for trade and Actavo helped the country comply by providing turnkey, high specification, modular offices for customs personnel at Dublin Port. The same year brought the unprecedented health crisis, Covid-19. Actavo mobilised quickly and designed, built and installed a modular Covid-19 Testing Unit for St. Vincent's University Hospital as well as designing, building and installing accommodation units for Covid-19 testing staff in other parts of the country.

In October 2021, we re-named the business 'Actavo Modular'.